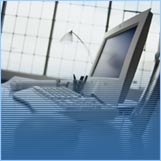 JSP - Java Server Pages
Developed JSP Pages under Iplanet and Weblogic. Have written many intranet systems gathering information from many different data sources including Access, SqlServer, and Sybase utilizing JDBC database connectivity. Also we are able to convert back and forth between ASP and JSP. All pages use HTML and embedded JavaScript as well as Java beans.
ASP - Active Server Pages
Developed ASP Pages under Microsoft IIS, both intranet as well as internet systems. Projects include a financial tracking site for DRP stock portfolios and cost basis analysis, along with numerous e-Commerce sites for a wide range of industries. Check out our Case Studies to view our recent projects.
HTML, Flash, Fireworks, JavaScript, and VBScript
Familiar with HTML, Flash, Fireworks, JavaScript, and VBScript. All client-side scripting in done in JavaScript, making it virtually browser -independent. Server-side VBScript is used on all ASP sites. RTO has completed many projects using Macromedia's Flash and Fireworks tools.
Java
Worked with JDK1.2 and above. Have used java beans technology to complement JSP development. Also have done several applets using PowerJ and Jaguar components using a 3-tier achitecture.
Powerbuilder
Over 7 years experience with client server development under Powerbuilder. Two-tier, three-tier, internet, Jaguar, and PFC. Worked under many databases such as Sybase, SQLServer, Access, and DB2. Stored procedures, you name it, we have probably done it in Powerbuilder.
Mainframe
Started out in the Mainframe COBOL world and have kept up with developments in the environment over the years. Familiar with DB2, VSAM, CICS, and TSO and a host of other Mainframe tools. As long as the mainframe is around, we can and will develop for it.