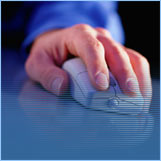 Welcome to RTO Solutions, where we strive to bring your company to the web. Our specialty is small- to medium-sized companies who are looking for a personal and customized touch that will help them compete in the world of technology and e-business.
Whether its an online presence with e-commerce, a custom database solution, or an intricate networking and intranet solution, we have the tools and the experience to get the job done.
Our team has years of experience and expertise to rely upon. Check out our Technology Solutions to discover how we can make technology work for your business. Then check out our Case Studies to learn how we've helped other companies like yours in the past.
Once you've gotten to know us, Contact Us and let us know what we can do for you today!